Event Details
2018 Spring Career Fair and HR Volunteer Opportunity
Date:
March 27, 2018, 10:00am
Organizer:

Cheyenne Workforce Center, LCCC Outreach & Workforce, LCCC Career Center,, Airmen & Family Rediness Center

Location:

Laramie County Community College, Cheyenne, WY
Recreation & Athletic Center (RAC)

Price:
iCal link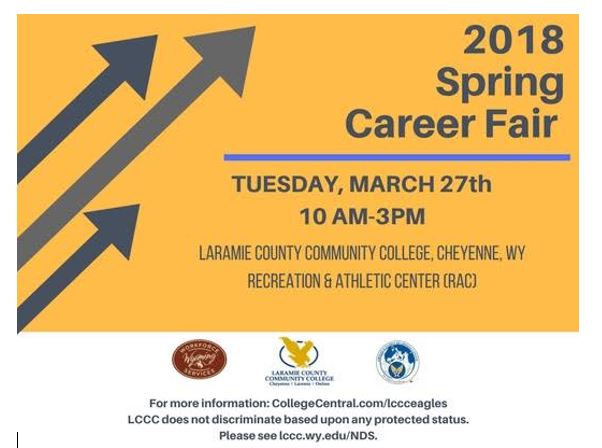 If you currently have or will have open full-time, part-time, internship, temporary, or seasonal positions, the LCCC Career Center, LCCC Outreach & Workforce, Cheyenne Workforce Center, and Airmen Family & Readiness Center would like to invite you to our 2018 Spring Career fair on
Tuesday, March 27th from 10:00am – 3:00pm in the Recreation & Athletic Center (RAC).
Below is a link to detailed registration and event information.
Space is limited, so please register ASAP to reserve your spot.
Spring 2018 Career Fair: https://www.collegecentral.com/CCNEngine/LiveEvents/LiveEvents.cfm?EventID=3302
Seeking Volunteer HR Professionals for resume critique for LCCC students
Monday, March 19th 11am-2pm
Tuesday, March 20th 1-3pm
Wednesday, March 21st 9-11am
Thursday, March 22nd 2-5pm
Friday, March 23rd 11am-2pm
Monday, March 26th 11-3pm
If available to volunteer, please contact:
Crystal M. Smith, M.S.
Lead Career Education Specialist
Laramie County Community College
1400 East College Drive
Clay Pathfinder Building, Room 111
Cheyenne, WY 82007
FBcsmith@lccc.wy.edu I 307-778-1132